On Friday 13 April, The British School of Brussels (BSB) students presented an outstanding public speaking event called 'Let Freedom Reign' at Warandepoort Theatre in Tervuren.
An audience of over 300 parents, invited guests from Tervuren commune, BSB alumni and members of the local community were treated to an amazing evening of thought-provoking speeches and poignant musical performances, which marked the 50th anniversary of the death of Martin Luther King Jnr, and commemorated the end of the Great War 1914-1918.
Our youngest speaker was just ten years old and spoke confidently about slavery. Twenty students spoke fluently, without notes and were passionate about their topic. Speeches were diverse, such as, 'the power of kindness', 'love does not discriminate', 'freedom of expression is the foundation of a free society', 'the theoretical possibility of eternal life and it's repercussions', 'it's only rocket science' and 'capitalism is broken': challenging subjects for any mature adult.
The second half of the programme was dedicated to the commemoration of the end of the Great War. Speeches continued on subjects ranging from 'patriotism and propaganda on the stand', a poem read in English and Dutch by students Thijmen and Jasmine (written by Wilfred Owen) called 'Mental Cases', followed by a thoughtful and moving story written by BSB student Julie, and read in Dutch, called '6 oktober 1917': an original account about a soldier's life in the trenches and horrors he faced.
We were honoured to welcome BSB Trustee HRH Princess Claire and her daughter HRH Princess Louise as special guests, along with Mayor, Jan Spooren, and other members of Tervuren town council. They were immensely impressed by the quality and content of the evening, and could not believe the confidence and professionalism of the students.
Congratulations to all the speakers and musicians who performed and a special thank you to the Secondary Students who, together with staff support, organised the whole event.
Thank you also to our generous theatre-goers who donated €568.67 to the post-show collection for our chosen charity, the Belgian Red Cross, in recognition of their work in the past during World War I and their ongoing support for victims of today's conflicts. The cheque will be given to representatives of the Red Cross at BSB on Thursday 26 April.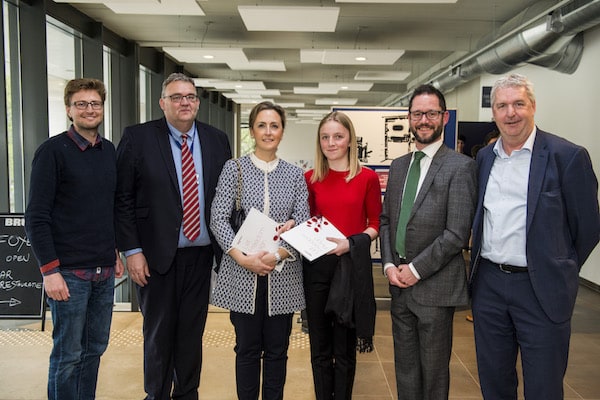 Pictured left to right: Bram Peters (Councillor Tervuren gemeente), Gary, HRH Princess Claire, HRH Princess Louise, Neil, Jan Spooren (Mayor Tervuren) 
View a short video clip on YouTube
---
Stay up-to-date with news and events at BSB via Instagram, Facebook, Twitter and LinkedIn.