News 22 October 2018
Beginning on Monday 15 October, students, staff and parents enjoyed a week of literary celebrations as Book Week returned to BSB. The theme this year was 'Monsters and Mortals', to mark the 200th year anniversary of Mary Shelley's 'Frankenstein'. This year a vast array of fascinating authors and illustrators visited BSB including: Shoo Rayner, Neil Griffiths, Richard Grant, Chris Bradford, Sita Brahmachari, Julia Wills, Frances Hardinge and Chris Priestley.
In the Primary School, our Book Week began with two wonderfully inspiring assemblies. In Upper Primary, Richard Grant, aka Dreadlock Alien, wowed the children with his freestyle poetry and challenged them to create their own. Neil Griffiths made a similar impact to our Lower Primary children with his magical storytelling. The excitement continued with an outdoor 'Monster Mash' dance, for which thanks must go to Kerry and her ghoulish dancers. Throughout the week, the students went on to create stories, poems and illustrations inspired by our visiting authors: Shoo Rayner, Neil Griffiths, Richard Grant, Chris Bradford, Sita Brahmachari and Julia Wills. These were not only talented authors and poets but also people who could engage and excite the students. Even the teachers could be seen listening intently to 'The Little Mouse and the Ripe Red Strawberry' during Neil Griffiths' professional development session about the importance of storytelling. This year's Book Week also saw our very first Primary Poetry Slam which was a tremendous success with every child in Upper Primary involved in the performance of a poem that they had created. A huge thank you should also be extended to all our visiting readers who ensured that children were exposed to many stories in lots of different languages.
In the Secondary School, we had an equally exciting and stimulating week. Our authors provided us with a huge variety of experiences and inspiration. To the delight of our students, Chris Bradford revealed that his research extends to being able to demonstrate physically exactly what the bodyguards and Samurai warriors do. Frances Hardinge and Chris Priestley explored the spookier side of writing with talks about the gothic and about creating monsters, examining who or what a monster is. The challenge for Year 10 and Year 11 to write their own stories was provided by Dan Powell in two fabulous writing workshops, where they focused on how to ask questions of pictures to stimulate writing. Marcus Sedgwick and Sita Brahmachari brought us a completely different angle, focusing on stories where monsters are much more real and closer to home, with Sita leading an Amnesty International lunch-time session in the library and Marcus explaining what inspired him to write 'Saint Death', set contemporaneously on the Mexican-US border. Harry Baker proved a huge hit with students, performing some of the poems that led him to be crowned World Poetry Slam Champion and facilitating a stunning outdoor House Poetry Slam on Friday at lunch-time to bring the whole of the week's excitement to a climax. Parents too were able to get a taste of it all at the sell-out Thursday evening Book Week Celebration, featuring authors, student musicians, street dancers and the launch of the second BSB Short Story Anthology, 'There Stood a Monster'. Thanks to all the staff and students who dressed up on Friday to finish the week with a monstrous roar!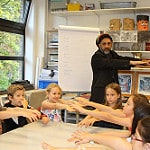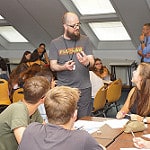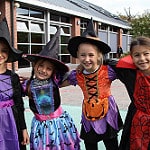 ---
Stay up-to-date with news and events at BSB via Instagram, Facebook, Twitter and LinkedIn.