BSB

Futures
BSB Futures is a school-wide initiative of The British School of Brussels that seeks to enrich student learning by building connections with the professional world. Driven by a collaborative spirit, our programming values equally the voices of students, teachers and external partners as we work together to inspire and support student aspirations.
All BSB Futures activities fulfil at least one of three major goals for student development.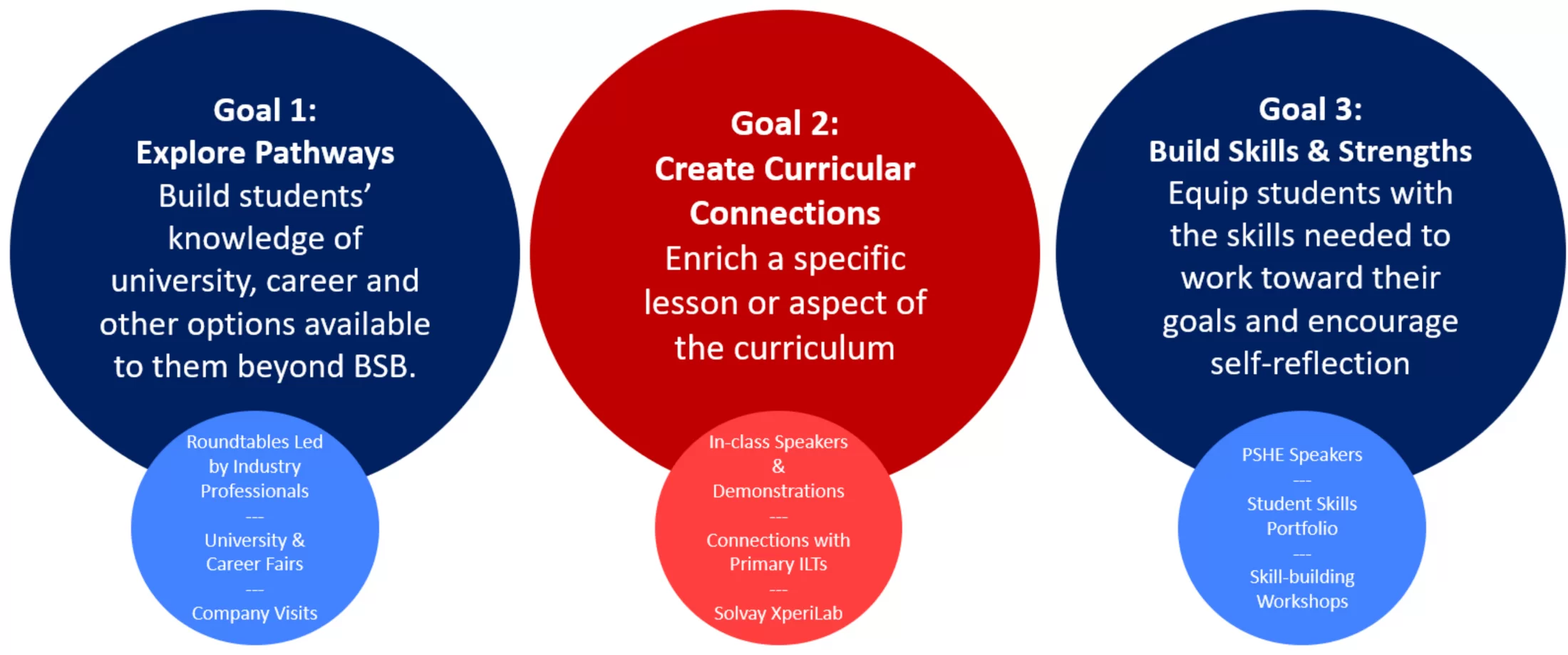 Goal 1: Explore Pathways
Countless paths lie before our students, including many that are yet-to-be-discovered. By introducing students to a broad range of professional experiences and possibilities, we equip them to make well-informed decisions as they consider their personal paths to success. BSB Futures activities such as university and career fairs, career roundtables with industry professionals, and visits to company sites, build students' knowledge – firsthand — of the options available to them beyond BSB.
Goal 2: Create Curricular Connections
The BSB classroom, be it virtual or in-person, is a dynamic learning environment dedicated to offering the highest-quality education at all grade levels. We work to instil a lifelong love of learning in our students, and as such strive to illuminate the real-world applications of what is learnt in class. By contributing an additional perspective to our lessons, BSB Futures activities such as in-class speakers and demonstrations, connections with Primary ILTs, and visits from industry partners like the Solvay XperiLAB, enrich our curriculum and reinforce students' understanding of key concepts.
Goal 3: Develop Skills & Strengths
As industries innovate and change, so, too, do the competencies needed to thrive in their professional environments. In addition to building a strong foundation of transferable skills that will position our students to succeed no matter where they go, we hope to inspire each BSB student to identify and make the most of their individual strengths and values. Skill-building workshops, expert panels and our work with Tata Consultancy Services' goIT programme are some of the ways that BSB Futures engages students more deeply in their own personal development.
Who are our Partners?
Since 2016, partners representing the following organizations have generously volunteered their time and expertise: Solvay, Tata Consultancy Services, the American Chamber of Commerce in Belgium, the British Chamber of Commerce for Belgium and the EU, GlaxoSmithKline, Procter & Gamble, Mars, BBC News, the Royal Air Force, Deloitte UK, UN Environment Programme, UNIDO, NATO, and many more.
Please contact Amanda Nocera to learn more about how you and/or your organisation can contribute to our upcoming BSB Futures programming.