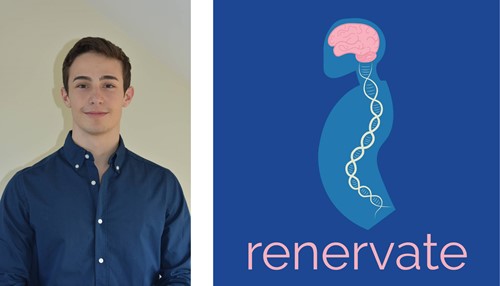 This autumn, BSB alumnus Gonzalo León González and a team of student researchers at King's College London have taken on an impressive challenge, to say the least; Renervate, as they call themselves, plans to participate in this year's International Genetically Engineered Machine Competition (iGEM), the most prestigious synthetic biology competition in the world. Scheduled to take place in Boston, MA, USA from October 29 – November 2, iGEM is a friendly competition between over 350 teams dedicated to solving real-world problems through innovation in the field of synthetic biology, which aims to engineer and redesign living cells to have new abilities. Gonzalo and Renervate are pooling their knowledge to tackle early stage Spinal Cord Injuries (SCIs), hoping to develop a less-invasive treatment that will not only address the injury but also prevent further degeneration and encourage new axon growth.
Born in Seville, Spain, Gonzalo moved to Brussels at the age of 6 and attended a number of international schools before finding a home at BSB in 2014.  It was here that he began to explore his affinity for the sciences more deeply, completing A-Levels in Biology, Physics and Mathematics and earning a spot in the Biomedical Engineering programme at King's College London upon graduating in 2018.
"I certainly think that BSB helped me get [to] where I am right now because of its strong science programme, which gave me the interest in synthetic biology [that has led me to enrol] in iGEM."
In addition to his academic credentials, Kings' College took note of Gonzalo's activities outside of the classroom and the ways in which they have helped him to grow:
"After a bullying experience at my previous school, BSB's environment really helped me get me back on my feet and gave me a second chance at having a good secondary school experience. I really appreciated the inclusive environment shown at BSB. During my last year at BSB, I became the Swimming team captain. This experience encouraged me and gave me the general leadership background to apply to the King's College London Principal's Global Leadership Award, for which I was accepted."
Now in his second year at King's, Gonzalo continues to approach his studies with this same drive and ambition; his sights are already set on a Master's degree, and he hopes that the iGEM competition will help him to explore potential future career paths as well as strengthen his project development skills. Although separated due to current events, Gonzalo and the Renervate team are working hard to raise project funds remotely via GoFundMe and eagerly anticipate bringing their research to life when they return to London.
If you are a BSB alumnus who would like to share your creative, innovative and/or socially-engaged projects, we want to hear from you!  Please email our Alumni Coordinator, Amanda Nocera, at anocera@britishschool.be, to spread the word.