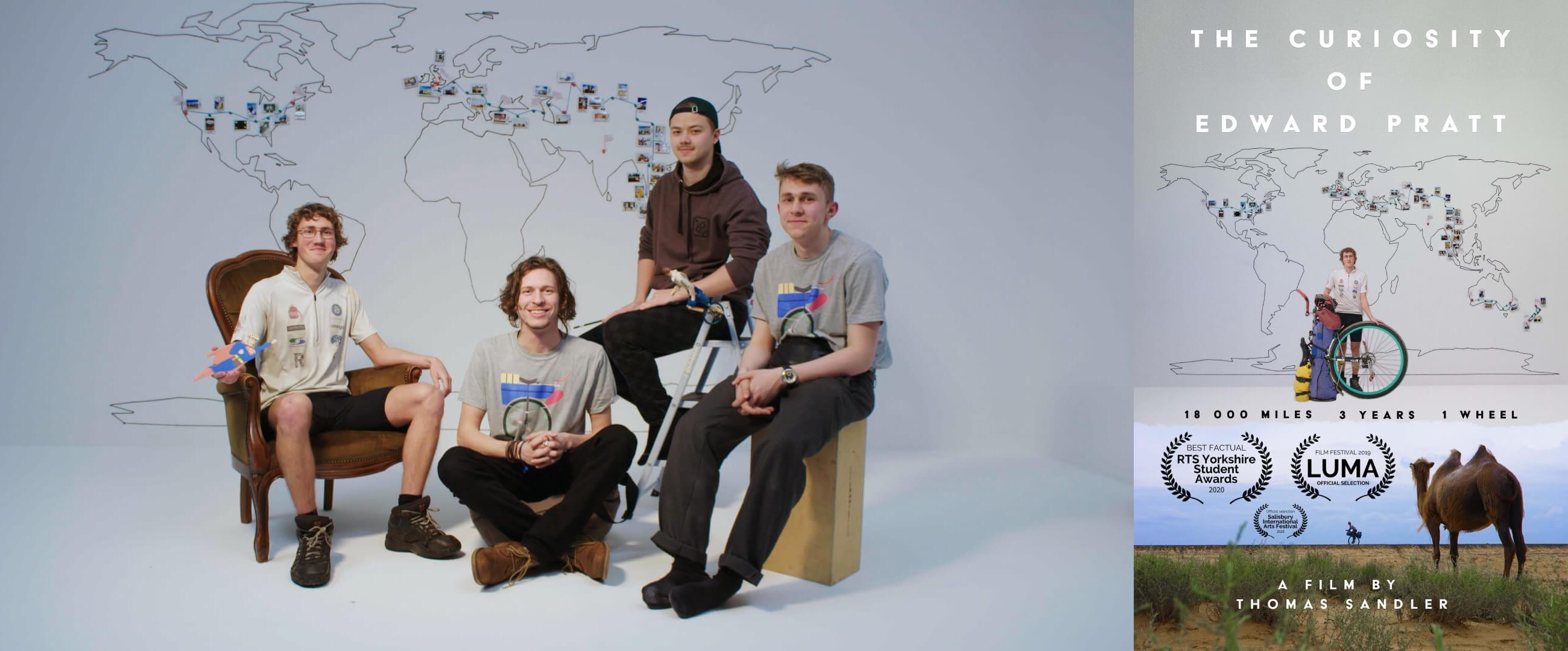 Left to Right: Edward Pratt, Thomas Sandler, Oscar Godfrey (Production Designer), Alex Gordon (Sound recordist)
Congratulations to BSB alumnus, Thomas Sandler, whose short documentary film, The Curiosity of Edward Pratt, won the regional Royal Television Society's Yorkshire Student Award for Best Factual on 26 February, 2020. Not only will the film advance to the RTS's national competition on 26 June, but it has also been selected to run during both the Salisbury International Arts Festival on Monday, 1 June and School in a Bag's charity music festival, Home Farm Fest, on 12 June.
Thomas graduated from BSB in 2016 and will complete a BSc in Film and Television Production at The University of York this July before taking on further studies in Cinematography. A Belgian-British student born in Leuven, Thomas can trace his interest in filmmaking back to the age of twelve, when he and a few classmates completed their very first feature-length fiction film. It was not until his time at BSB, however, with the encouragement of his filmmaking teacher, Mark Andrews, that Thomas began to consider turning his long-time love for film into a serious career prospect. After graduation, he took a gap year to complete a course in filmmaking at Prague Film School, and the rest is history in the making; at age 21, Thomas has co-founded a production company, earned over 14 "Director of Photography" credits in the last year alone, and now has his sights set on developing The Curiosity of Edward Pratt into a broadcast television series.
Looking back on his time at BSB, Thomas reflects:
"BSB provided an inspiring and motivational framework that gave me the opportunity to try, and fail, in creative endeavours. All my peers and teachers were incredibly supportive, and, as I believe that a film lives and dies by the value of a director's perspective, I have always made it my mission to enrich mine. BSB, through its international community, is bursting with perspectives and opinions; I cannot overstate the impact it had during those critical years when I had to decide in which direction to take my life."
Warm wishes for continued success from the entire BSB community!
If you are a BSB alumnus who would like to share your creative, innovative and/or socially-engaged projects, we want to hear from you! Please email our Alumni Coordinator, Amanda Nocera, at a.nocera@britishschool.be, to spread the word.