NEWS 29 JUNE 2018
BSB celebrated learning in Secondary School with an awards ceremony hosted in the historic Promotiezaal at KU Leuven.
Certificates were presented by guest of honour Simon Wilson, BBC News Editor European Bureaux to 87 students from Year 7-11 for awards for Effort & Progress, Effort & Achievement, and Respect for Others.
21 subject awards were presented to Senior Students from Year 12 and 13, who each received a replica of the Fonske statue, a quirky monument sited on the Fochplein in Leuven, which honours the city's educational heritage. The statue depicts a student holding a open book in one hand and a mug of water in the other, which he is pouring into his open head. Interpretations differ as to whether the water represents wisdom, beer or both!
Special Achievement & Community Awards were presented to 14 students with citations given in recognition of their commitment to learning and contributions to life at BSB and the wider community. Special mention was also given to the five students who achieved their Gold Duke of Edinburgh Award. Congratulations to all the winners on their success.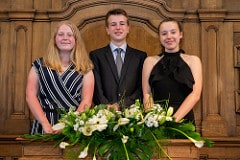 ---
Stay up-to-date with news and events at BSB via Instagram, Facebook, Twitter and LinkedIn