The British School of Brussels recently launched a groundbreaking initiative centred on perhaps the most important issue of our time—the climate emergency. Introducing a visionary cross-faculty unit on climate change, which will be integrated into several disciplines across our Secondary school – Geography, Science, Maths, DT, English, Art, and Languages – as well as in lessons in Primary, the initiative will go beyond being a mere addition to the curriculum; it will be an integral component that will equip our students not only with knowledge but with a holistic understanding of the multifaceted dimensions of environmental issues.
By interweaving the critical subject of climate change into diverse topics, BSB aims to start students on a transformative journey where every subject becomes a gateway to understanding and addressing the defining challenge of our era. This cross-faculty unit is another example of our commitment to fostering a generation that comprehends the gravity of the climate crisis and is poised to meet the challenges it presents with innovative solutions.
Serving as a catalyst for this transformative endeavour was a riveting panel discussion where Year 9 students engaged with climate experts from the World Bank, the EU Commission, activism, and enterprise. We welcomed Andrea Liverani, Lead Specialist, Environment, Natural Resources and Blue Economy (Europe and Central Asia) at The World Bank Group; Defne Bilgin, Food Scientist & Co-Founder of Moreshrooms AS; activist and climate coach Fons Feekes, and policy officer Mathilde Carbonnelle from the Directorate-General for Energy at the European Commission.
Year 9 students quiz experts on climate emergency
Before engaging the visiting experts in a thoughtful and informed Q&A session, our students listened to their presentations on the panel's theme 'Why is the climate emergency humanity's biggest threat but also greatest opportunity?'. The discourse not only captivated our students' attention but ignited a fervent curiosity to delve deeper into this urgent matter.
Additionally, Year 8 students had the incredible opportunity to connect with Andressa Scabin, a biologist and conservationist deeply committed to the sustainable protection of the Amazon Rainforest, direct from her jungle base via a livestream. Hosted in person by our own Fernanda Vallerio Souza from the school's EAL department, the session held in BSB's Brel Theatre provided our Year 8 students with the opportunity to have their questions on all aspects of conservation efforts in the Amazon and its ecosystem answered by an expert currently living and working in the rainforest itself.
Andressa, a dedicated biologist and ecologist from São Paulo, has spent extensive time in the Amazon, driven by a childhood passion for exploration. Despite lacking an academic background, her curiosity led her to become a seasoned researcher and environmental advocate.
Currently, Andressa focuses on establishing a scalable, community-led conservation model in Brazil's Juruá River Valley. Her work involves tracking aquatic species, mapping protected areas, and addressing broader issues like deforestation and food security for floodplain-dependent communities.
Brazilian conservationist beams in from the Amazon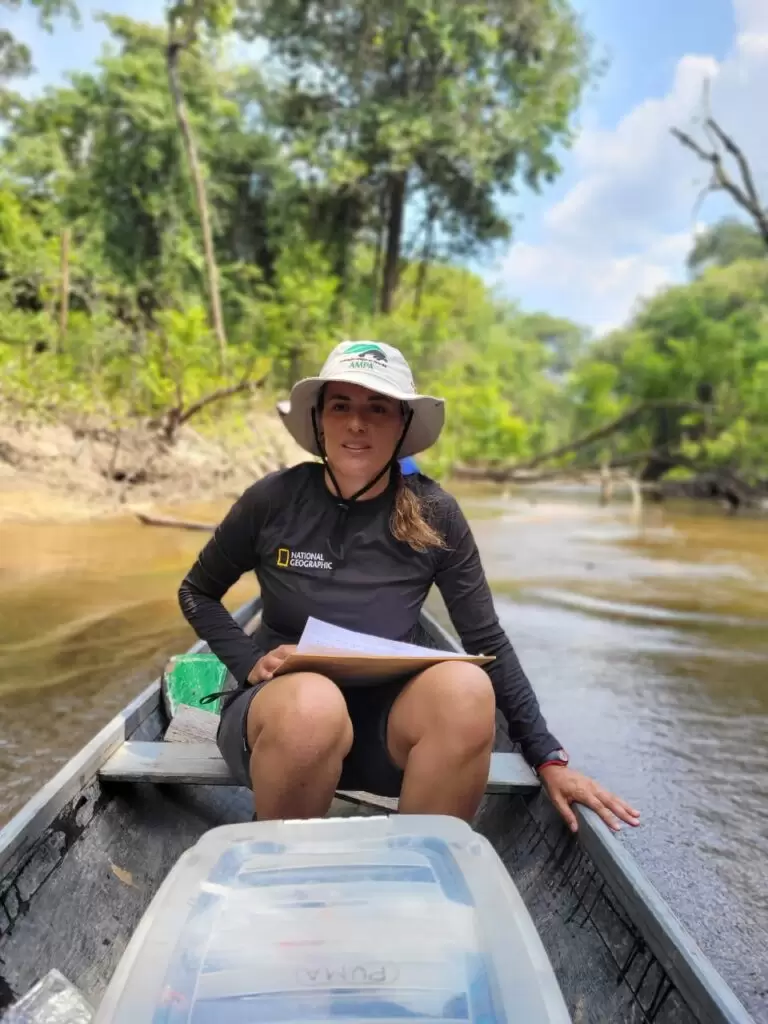 Emphasising the role of Indigenous peoples and local communities, Andressa told the assembled students that she sees them as the true "heroes" in safeguarding the environment. Her close relationships with Amazonian communities since 2007 have fuelled her commitment, citing them in her presentation as the motivation for her work.
Andressa told the students that a significant success in her career has involved the restoration of the arapaima, the world's largest freshwater fish, through Indigenous-managed efforts. This success led to the founding of the Instituto Juruá, dedicated to combining traditional and scientific knowledge for Amazon conservation.
Despite challenges in tracking wild animals, Andressa said she remains committed to community-based conservation. The collaborative efforts of these communities, showcased in ongoing arapaima management, highlight the profound impact on both human lives and the environment.
Through her presentation, the students understood that Andressa's journey underscores the interconnectedness of human and environmental well-being. The collaborative spirit of communities, deeply connected to the land, is crucial for the future preservation of the Amazon, as highlighted in her inspiring live address.
New cross-faculty unit reinforces BSB environmental curriculum
These events are the latest examples of BSB's commitment to cultivating environmentally conscious and informed global citizens through pioneering initiatives which propel our students beyond the confines of traditional learning such as the cross-faculty unit on climate change and engaging dialogues with experts in the field.
In this nexus of academia and real-world challenges, we lay the foundation for a generation poised to grapple with the complexities of our planet's future. Our endeavours underscore not just an educational imperative but a moral obligation to empower students with the knowledge, skills, and passion needed to navigate the intricate tapestry of environmental issues.
Together, as a community dedicated to fostering change-makers, we embark on a journey where our students emerge not only as champions of academic excellence but as stewards of a sustainable and harmonious world. The seeds we sow today in the fertile ground of curiosity and awareness promise a bountiful harvest of responsible global citizenship tomorrow.
Read more about the environmental studies curriculum BSB here.