The British School of Brussels (BSB) continues to welcome new students, despite the global challenges faced by schools during lockdown. Almost twenty new children joined BSB in March and April and the wonderful pastoral care and support for settling in, that is renowned at BSB, was no exception for these newcomers from all corners of the globe.
"One family joined us from Mexico and the family were keen that their children started remotely straightaway. Using a variety of online tools, including Microsoft Teams, all of our children have been able to continue to learn with their teachers and friends and connect with each other. Teachers and colleagues have shared how valuable these connections are for the personal and academic development for all children including those new students who have been welcomed 'virtually'." Said Neil Ringrose, Head of Primary School.
Another Spanish/Italian family who joined BSB remotely from the UK said: "My children are doing great. Everything is sorted with their Continuous Learning Provision. They have never used so many computing tools before such as email, One Note, Microsoft Teams etc., so it has been a great opportunity for me to teach them. They are learning not only the subjects, but also how to use these tools. I'm very pleased with their progress and comprehension of all subjects. Their teachers have been extremely responsive, they are always there to help and respond to questions in a timely manner. The material is also great and very well structured.  Due to the eBSB planner, we were able to plan the week based on what needs to be accomplished." Mrs Quintero said.
"Lockdown hasn't stopped us from providing care and support to our new children," said Melanie Warnes, Principal. "If families are in Belgium, we have a planned procedure that enables our students to start immediately, right from assigning a new iPad or laptop, having it configured by our technology team, delivered to our security gates and then collected by the family." Melanie continued.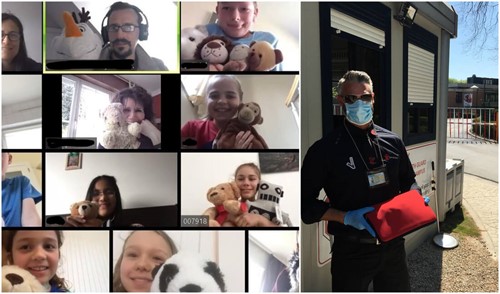 At a time that is convenient for both the family and the BSB technology team, a virtual training takes place to become familiar with the tools and resources used for its established Continuous Learning Provision.  For Primary School children, a welcome message is given by Neil, Vice Principal & Head of Primary and then students are introduced virtually to their Tutor or Class Teacher at a time suitable for both to ensure they are welcomed and introduced to a new buddy.
The parent group Families of BSB is also still very active; offering support to the new family either by simply making a welcome call or putting them in touch with another family already at BSB.
All along BSB had planned for a continuous learning that was feasible and staggered in order to enable its students to continue learning progressively, and without becoming anxious or overwhelmed. A balanced approach that would be sustainable not just for the first few days of site closure but potentially for weeks.
"BSB's Continuous Learning Provision was always intended to provide a balanced approach to learning at home. Right from the beginning of lockdown we were firm in our belief not to simply replicate the normal classroom structure. Instead allowing students to settle in, find a suitable working environment, familiarise themselves with available resources and tools, and adapt to the new learning rhythm, including exercise, breaks and outdoor activities. That was important to staff as much as our students". Said John Knight, Vice Principal & Head of Secondary School.
"Now we are in week five of our Continuous Learning Provision, our staff and students continue learning at a steady pace and lessons and individual study work are gradually increased.  A positive learning experience for everybody that respects our commitment to wellbeing". Melanie said.
Click here to read other articles about how BSB is positively managing life during lockdown with their Continuous Professional Learning programme.