News 17 August 2017
BSB is once again delighted with this summer's examination results at Post-16 for A Level, BTEC and the IB Diploma. Our excellent grades, from students across a wide range of ability, have translated into brilliant university places worldwide on a large variety of competitive and exciting courses.
Last year our IB Diploma results were a record. This year we have surpassed even those scores. Once more, all our IB students sat the IB Diploma and, for the fourth year in a row, all passed. Remarkably, 98% of those successful results were at 30 points or above (the world average is 40% for 30+ points).
Our average IB Diploma point score of 37 points was up on 2016's record level.
100% pass rate for the fourth year running (compared with a world IB Diploma average of 79.3%).
59% of our candidates obtained 36 points or more (compared with a 2016 world IB average of 21%).
32% achieved the Diploma with 40 points or more (against an IB world average of 9% last year) with two of our students obtaining 44 points.
32% of our IB students opted to take the Bilingual Diploma and all were successful.
These results amount to our best IB Diploma results to date.
Meanwhile, our BTEC results in Business, Sport and Hospitality were again extremely strong. Almost all of our BTEC students have combined this qualification with A Levels. Once again, all students at all levels passed. A very impressive 67% of grades were at Distinction or Distinction * level, equivalent to A and A* at A Level.
At A Level, our results were also up on last year's impressive crop, as we adapted to the new linear A Level system in many subjects. BSB students achieved a splendid 99.2% pass rate, with an impressive 32% of grades at A*/A – well above the national level of 26.3% and up on last year – and 64% at A*-B and 80% at A*-C. One student achieved a stunning set of four A* grades. Some students have combined A Levels effectively with the Extended Project Qualification and BTEC courses, with impressive success in both, and so strengthening their university applications.
BSB does not select students by ability. For many, English is not the native language. This makes success even more tremendous. The programmes are led by a highly committed and well-qualified team of teachers and our academic, university and pastoral support is organised throughout the two years to help individual students to be the best they can be and aim high.
Principal Melanie Warnes said :
"Congratulations to all of our students. I am thrilled for you as you step into your chosen future with confidence of continued success. We are all very proud of you." 
Sue Munday & James Willis, the Co-Heads of Post-16, added:
"We are delighted with these results across all the qualification pathways that we offer. There have been some wonderful individual stories but as a cohort they reflect a tremendous amount of hard work, effort and commitment and we wish everyone all the very best of success for the future."
Gary Minnitt, Head of Secondary School and Vice-Principal, stated:
"We are immensely proud of the range of individual success, knowing the journey that these students have been on. These grades are a real testimony to the hard work and dedication of students and staff alike, as well as the excellent support we enjoy from parents. These results will now open doors to another world for these students. Congratulations to everyone and the very best for the future."
* the most up-to-date comparable figures available for the IB Diploma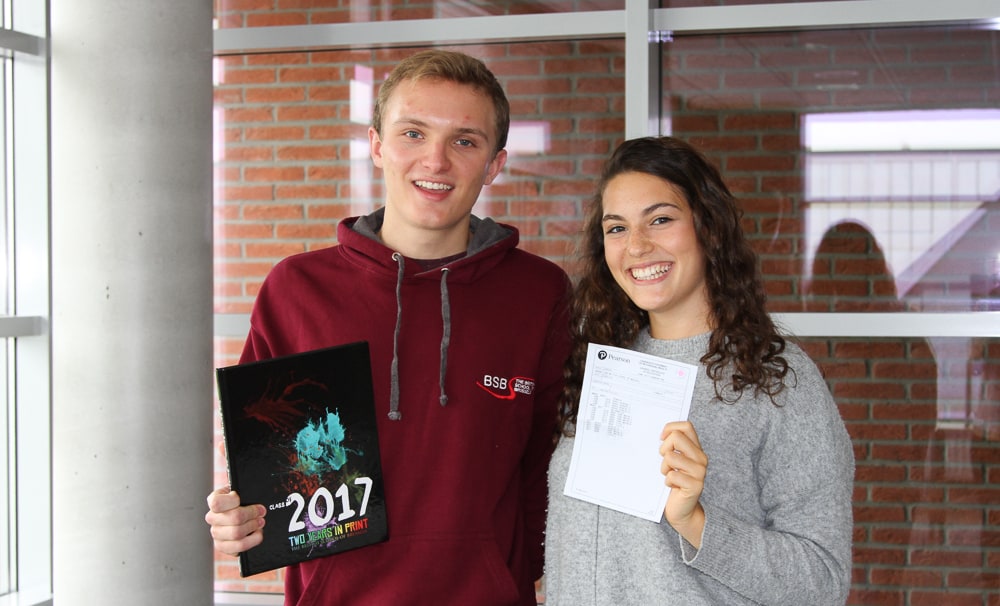 View more IB and A Level Results Day photos.
---
About The British School of Brussels
The British School of Brussels (BSB), founded in 1969 in Brussels and established in 1970 in Tervuren, is an all-through international school for children aged one to 18 years. There are  over 1,350 students on roll, representing approximately 70 nationalities. The school offers a British Curriculum up to age 16 years, (I)GCSE followed by the choice of GCE A Levels, the International Baccalaureate (IB) Diploma and BTEC Post-16. Extensive provision for learning support and English as an Additional Language (EAL) is available, as well as a wide range of extra-curricular activities.  BSB is the only international school in Belgium to have its own swimming pool. There is also a French-English bilingual programme for ages 4-14 years. School accreditations include the IB World School, COBIS (Council of British International Schools), IAPS (Independent Association of Prep Schools) and the Principal is a member of the Headmasters' and Headmistresses' Conference (HMC). BSB has received an outstanding report from the Council of International Schools (CIS).
Stay up-to-date with news and events at BSB via Instagram, Facebook, Twitter and LinkedIn.