Like much of Europe, Belgium has introduced strong measures aimed at slowing the spread of Covid-19. For the BSB community, this has meant adjusting to working and learning from home. Here's a snapshot of three teachers, each from different levels of the school, showing how life and learning at BSB is carrying on in extraordinary times.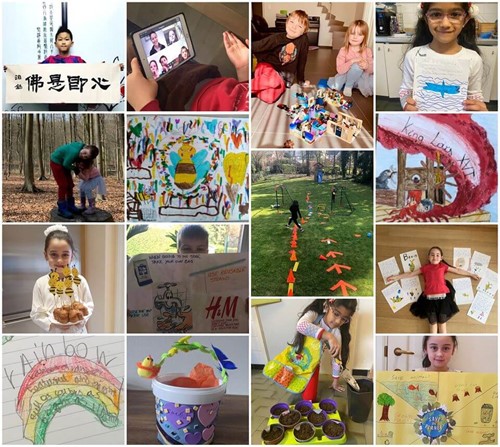 Flipping the Script
Kindergarten and Reception are the first two years of Primary School at BSB, for students aged 3-4 and 4-5. How can early learning provision continue to work when children are stuck at home? Very successfully, it turns out. Esther O'Conner, Primary Team Leader for early years, says much of this is due to the way that Lower Primary was already working before the lockdown – and with the help of an online journaling service called Tapestry.
A regular flow of updates between children, teachers and parents was already one of the hallmarks of Kindergarten and Reception at BSB. Throughout a school week, teachers would send photos, videos and updates to parents via Tapestry to update them on their children's progress and link this to key skills from BSB's curriculum. Parents could then comment and interact, leading to an excellent partnership between home and school.
In many ways, now, the script has flipped. It is parents who document their children's learning, updating teachers via the Tapestry platform. Teachers can then guide and refine the learning from afar, ensuring that the children continue to develop their skills. For example, a simple maths challenge might start with "how many sticks can you find?" Once sticks have been gathered and a photo sent back, Primary School teachers are then able to interact to deepen the learning: "I wonder if you have more than six? How many more than six?"
"We've had a really, really positive level of engagement," says Esther, who has been blown away by how families have embraced the play-based learning, "They've really understood the idea of children becoming experts in what they do." This is often quite literally the case: one example she gives is a child who became a formidable source of black rhino facts after one safari animals challenge. A central tenet of early years education at BSB is that children lead the learning; the projects set by the school are designed to be hands-on and offer plenty of scope for creativity. Children and parent alike have been running with the idea.
A recent set of reading missions began with building a reading den in the house and talking about favourite books. The follow-on question about finding the most exciting place to read led to a photo update from one family with dad on the trampoline: an appropriate backdrop for a favourite book about rabbits.
Teachers remain a vital part of the process throughout. Esther kicks of each week with a video guest starring Percy the Parrot, queuing up and building anticipation for the learning challenges ahead. For future weeks, the team is looking to support the play-based learning with more explicit teaching on phonics and maths – those areas which benefit from more specialised teacher-led instruction.
There's no question that the lockdown has presented a unique set of difficulties for the school and parent community alike. But the high level of engagement has been an affirmation for Esther both on the importance of good partnerships with parents but also the strength of those partnerships already established. Above all, it's the children who have continued to impress. For Esther, as well as the whole Lower Primary team, the experience has been a reconfirmation of how, "fantastic and engaged and creative our kids are at home as well as at school."
Adapting to the new normal
Jumping to the upper end of Primary School, continuous learning provision is also focused on strong links between school and home. "The biggest thing we identified really was communication with the students," says Travis Purnell, Team Leader for Year 6. Video chats were established relatively early on; even in the first week of lockdown Travis held several of them with staff and students alike, encouraging his team to do the same, "because that was the first thing we as staff felt was missing." The benefits of this face-to-face contact, albeit by way of a screen, can already be seen in the students he teaches.
When it comes to learning, Year 6 students at BSB have a high degree of independence and lot of technological nous too. "They've got their own 1-to-1 iPads. They can access things in the same way as we can in many ways. And in some ways even better than us on certain programs. From the start, the approach was to create a "menu" of tasks and projects that students could choose from. They would choose which of these to attempt, when to do them and how long to spend on them. In the coming weeks, more formal live lessons will be launched using video teaching."
Travis' philosophy as a team leader is to ensure that the whole Year 6 staff team is on board and up to speed with teaching approaches at every stage. Here, too, communication is paramount, and a shared working document has proved crucial to developing the team's policy in these uncharted waters. Clear protocols have been communicated to parents and students about the expectations for sharing work on Microsoft OneNote, for using video chat, and for text-based 'social chat'. Times for chatting, monitored by teachers, are set at fixed points during the week. At home, as in school, respect and kindness are the order of the day.
In addition to sharing ideas within his team at the school, Travis is looking to East Asia for inspiration. Former colleagues in Hong Kong who have been doing online learning for longer are a useful resource, helping Travis to build a picture of what BSB teachers need to be aware of. "What kind of problems did they have," wonders Travis, "and how can we jump over some of those to make sure we're not making the same mistakes."
Adjusting to working from home, particularly with the additional challenges of having kids or working partners at home, has been difficult for everyone, says Travis. For him, this period of lockdown has borne witness to the strong working relationships that were already in place in the team, meaning bumps along the road can be overcome together. As Travis says, "We are all, whatever our role, adapting to the new normal."
Balancing the Equation
For Secondary School maths teacher Rory Stewart, online learning has been an affirmation of the vital role that teachers play when it comes to, well, teaching. When continuous learning provision began at BSB, Rory used what's known in teaching circles as "flipped learning" with his exam classes: asking students to read up on material ahead of class and dealing with any questions in an online lesson. He soon found he needed to adjust his approach. Now as a first step he teaches his students the material through online demonstrations and explanations. After this, they review the lesson and ask questions, not in a videoconference, but over typed conversations on Microsoft Teams. Students can get individual feedback and don't have to ask questions live in front of the class.
The success of this new approach was a useful reminder for Rory: "Sometimes in teaching, you can think 'Okay, I don't want to talk at them too much and I want them to be independent in their learning. Do I really need to read through this with them, or can they do that in their own time?' And, actually, the answer is – yes, it is helpful for you to read it through with them, they do want to be taught and talked to and have things explained to them. And, actually, the questions don't have to be live – that bit can happen over time. But they do need that teaching."
Thankfully, such teaching can be done very effectively thanks to the software that BSB already has in place; tools that previously enhanced learning at the school have become indispensable. One such resource very useful for teaching maths is Microsoft OneNote: Rory can share his screen as he works through maths problems on a virtual whiteboard, while students tune in live from home. Those unable to make the session can watch the recorded version.
What are the challenges of working from home? Rory says he misses the daily contact with staff around him; the conversations that come up randomly passing in a corridor or nipping into a classroom. "At school there are people I chat to who I wouldn't really think to have a video call with, but if I was passing them, or if we ended up sitting next to each other, we would have a nice chat. So I'm definitely missing the social aspect and I think the students are missing the social aspect of learning in school as well."
The lockdown has brought unexpected benefits too, however. "I've enjoyed having much more contact with my students outside of lesson time," says Rory, "and I think something that might continue when we come back to school is that they now feel much more confident to ask questions over Teams and not just struggle alone; not just wait for the next lesson when they then forget to ask the question. I feel like it's opened the dialogue with students more about their learning and about asking for help."