A message from Principal Melanie Warnes
The British School of Brussels (BSB) is an inclusive international learning community for children aged from one to 18 years. 1,350 students from 70 nationalities within our Primary and Secondary Schools work together like a large family on our beautiful, safe campus in Tervuren. We are a happy and successful international school, with much to offer children of all ages and from all backgrounds.
Our aim is to be an educational force for good by developing confident, caring and courageous people who engage actively, ethically and purposefully with the world around us.
We take seriously the progress and individual development of every child, whatever their age and future education path. We foster curious, resilient learners who enjoy life and achieve the best that they can. 
Our curriculum is unique and offers the widest choice of any international school in Belgium. We combine this with a wide range of Enrichment activities and trips, giving students the chance to learn from the wider world around them. Our world class facilities, including a new state-of-the-art Sports Centre and swimming pool, music recording studios and purpose-built theatre, provide students with extensive curricular and Enrichment opportunities.
This is a very special community: mutually supportive, unconditionally welcoming and unfailing respectful. We encourage respect for self, others and the wider world. Whether ability is found in the classroom or beyond, we help our students to unlock their true potential. Every child is unique, and every child is encouraged. At BSB, individuals from around the world come together to create an inspiring and encouraging learning environment for all.
See our Guiding Statements and watch our 'Welcome to BSB' video to learn more about what makes our school so unique.
Melanie Warnes
Principal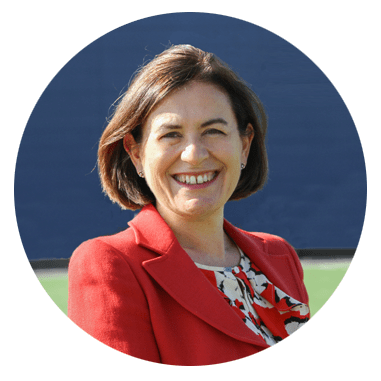 Why we're different
Our curriculum is unique, offering the widest choice
BSB is the only school in Belgium to offer three pre-university routes from age 16: A Levels, IB Diploma and BTEC. Our Primary curriculum offers a bespoke, skills-based, inquiry-driven approach adapted from the UK national curriculum to meet the needs of our diverse student population.
Our academic results are amongst the highest of any international school in Europe and well above the worldwide average
99% of BSB graduating students passed their IB Diploma or BTEC courses and 100% passed their A Levels in 2018.
We are the only international school in Belgium to have its own swimming pool
Our facilities are superb, providing the best indoor sports' facilities in Europe, including a 25m swimming pool. Our state-of-the-art new Sports Centre opened in autumn 2016.
Graduating students continuously gain impressive university places worldwide
Every year, superb results across the range of ability translate into impressive university places worldwide on a huge variety of competitive courses for our graduating students.
We were the first international school in Belgium to offer truly bilingual classes
We offer a French-English bilingual programme (not immersion), which is available to students aged four to 14 years.
Our school fees represent the best value amongst international schools in Belgium
We have the lowest fees overall, including application fees, compared to schools of a similar size.
An atmosphere of learning
Facts & Figures
pre-university routes

A Levels, International Baccalaureate (IB) Diploma and BTEC vocational qualifications

100% pass rate for A Levels, IB and BTEC 2020

and 99% pass rate at IB (last 3 years average)

Bespoke Primary curriculum

with 'Integrated Learning Themes'

French-English Bilingual programme

available for ages 4-14