We also pay particular attention to personal and social skills, physical development and mastery of communication, and each child has their own key worker who is deeply familiar with their routine, interests and areas for development.
Nature is one of our greatest teachers, and this is especially true at the ECC. Children have access to two dedicated outdoor areas: an all-weather playground and a beautiful wooded canopy to ignite your child's sense of wonder and adventure. Our littlest learners spend time outdoors every single day, whether the forecast calls for sun cream and shades or wellies and waterproofs. As the saying goes, there's no such thing as bad weather, only bad clothing!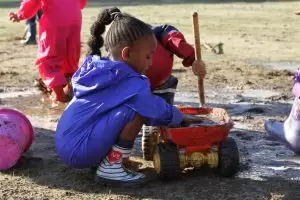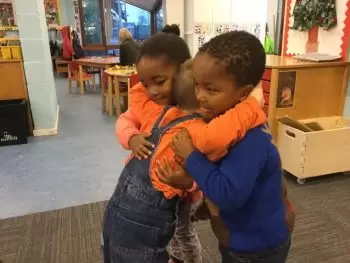 For those children who progress to BSB's Kindergarten, transition is aided by our trips to the Lower Primary Tintin library, twice-weekly visits from a specialist music teacher and familiarity with other key members of the BSB Primary team.  Our approach – that of turning even the most playful of moments into an opportunity to learn more about ourselves and the world in which we live – lays down an excellent foundation for your child's future schooling, whatever the road ahead.
The Early Excellence Centre of Inspirational Learning in the UK recognised the Early Years (of which ECC is a part) expert teaching and provision when it accepted BSB as one of its first training partnership schools within Europe. However, the best endorsement of our work is definitely the happy faces, kind words and busy hands we see at work in the ECC every day.
Come and see our uniquely inspiring environment for yourself: book a tour with our Admissions office today at admissions@britishschool.be
Esther O'Connor
Early Years Team Leader