The British School of Brussels' sport facilities are getting a facelift. Four years after the Jacques Rogge Sports Centre was officially opened by Jacques Rogge in 2016, a complete renovation of its sports pitches and tennis courts are now underway. Construction began in June and is on track to be completed by the end of September.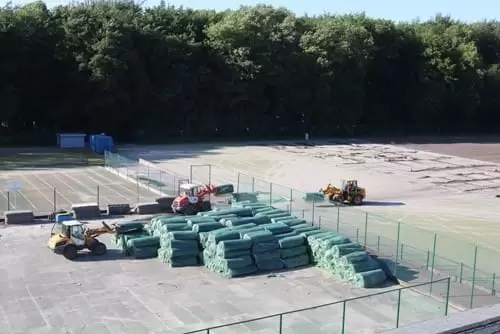 Outstanding and competitive facilities
"Our fabulous facilities include a complete overhaul of our sporting facilities and will include new Astroturf football and rugby pitches, three tennis courts, a running circuit, a long jump and even a climbing wall that will be used for supervised physical education lessons" said Tristian Cook, Head of Sports & Enrichment. "Together with our 25m indoor swimming pool, dance studio, fitness suite and gymnasium, BSB provides the most competitive school sports' facilities in Belgium" he added.
"These campus developments are a continuation of our Sports Centre that opened in 2016." Said Johan Servranckx, Finance & Operations Director, who is spearheading the project, working alongside COODE architects and the contractor LESUCO, to ensure the school provides the very latest competitive sports and outdoor facilities for our students. We have embarked upon an extensive and detailed master planning exercise for the development of the campus, including a top-level educational vision", he added.
2020 and looking to the future
"Part of the reason BSB continues to be successful is that we always looking forward – asking ourselves questions such as what will our students need in the future? What are the challenges and opportunities and how can we make our dreams reality for the next generation?" Said Melanie Warnes, BSB Principal.  "We know that the environment within which we live and learn is really important.  We have a wonderful campus in a beautiful environment but we know that we must continue to invest in the development of the highest quality in order to ensure that current and future students enjoy a great education and healthy life-style.  This current campus development project includes the renewal of the Lower Primary outdoor play area to maximise additional green spaces for our youngest children too." Melanie continued.
BSB is celebrating 50 years in education.
Click here to see our virtual tour and more photographs.