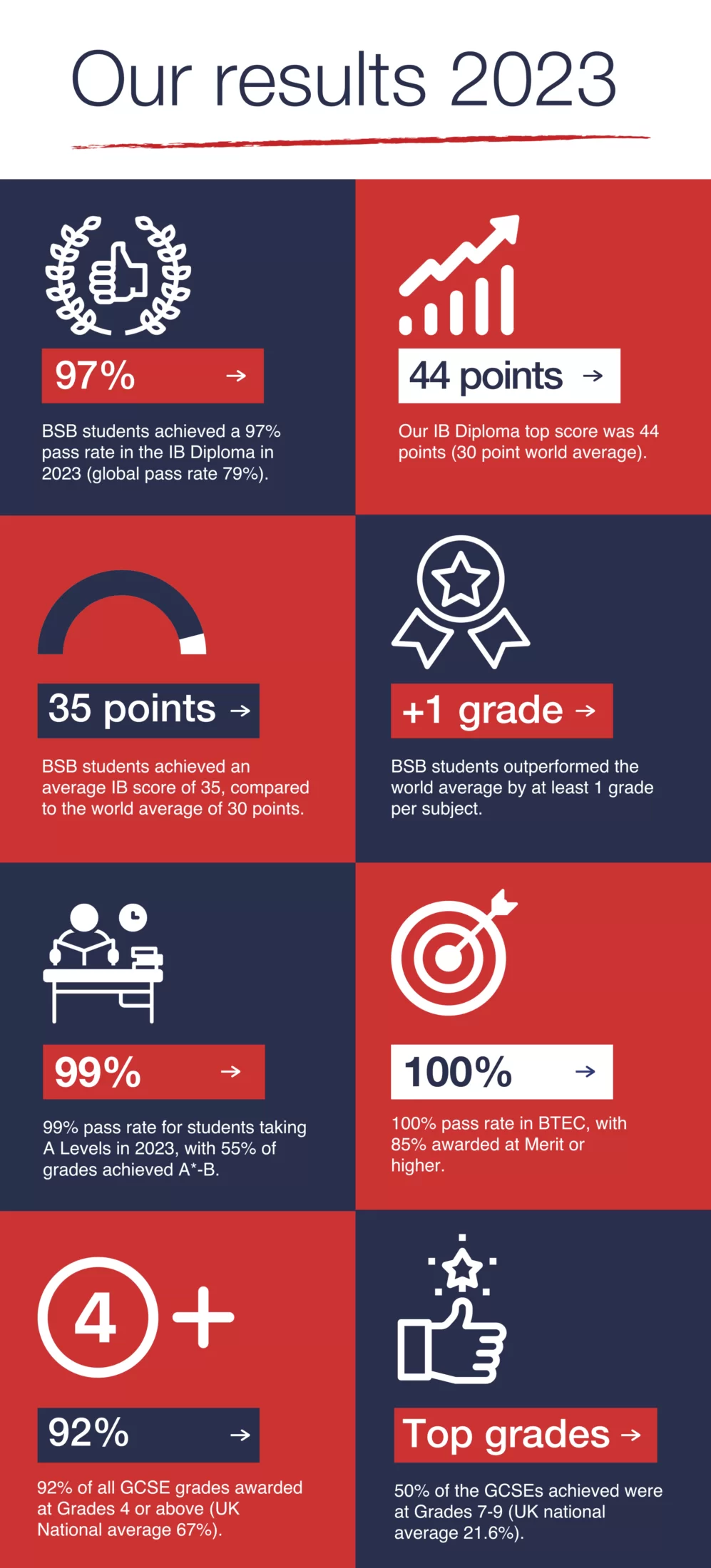 We are incredibly proud of our long history of academic success at BSB. This is particularly impressive considering that we are a non-selective school and the language of instruction is not the first language of many of our students. Students of every ability are supported to do the very best that they can and we are equally proud of all of our wonderfully diverse students.
Our entry requirements are similar to other inclusive schools in Belgium.
International Baccalaureate (IB)
Students of all abilities outperform students at other schools and thus we are proud to report that the following results are inclusive of the total cohort of students.
Pass 97% (Global pass rate 79%)
Average IB score of 35, compared to the world IB average of 30.
3-year average of 37 points.
BSB students outperformed the world average by at least 1 grade per subject.
The highest achieving student attained 44 points out of a possible 45.
A Level Results
Our A-level students are able to specialise in a small set of preferred subjects from a wide range of choices leading to outstanding examination success in a variety of disciplines.
Pass rate 99%
55% of grades awarded were at A*-B.
Percentage of students who achieved a A*-A grade in 2023 = 32% (UK national average 26.5%)
Highest achieving student achieved 3 A* and 1 A
Level 3 BTEC Results
100% pass rate.
46% of grades at Distinction* or Distinction Level.
81% of grades at Merit level or above.
Level 2 BTEC Results
100% pass rate.
67% of grades at Distinction* or Distinction Level.
89% of grades at Merit level or above.
GCSE Results
Pass rate 92% of all grades awarded at Grade 4 or above (compares with UK national average of 67% at Grades 4-9.)
Leavers and their destinations
Students graduate from BSB with great results and receive offers to study at some of the best universities in the world. But students at BSB are more than statistics – it is just as important to us that students have the confidence and self-awareness to chose the best course for them as it is what their final scores are.
For us the sign of a great education is not just the exam results but also that students go on to follow a pathway in the world that will see them enjoy fulfilment and be the best that they can possibly be.
With this in mind, we celebrate leavers who have, for example, taken up places at a wide variety of higher education institutions. In the UK: Oxford, Imperial College London, Edinburgh, University College London, St Andrews, Bath, Warwick, Exeter, the Royal Agricultural University, the University of East Anglia, Sussex, Leeds, Swansea, Salford and the University of the Arts London. In Europe: at Delft University of Technology, Erasmus University Rotterdam, the University of Amsterdam, Eindhoven University of Technology, Tilburg, KU Leuven, ESADE and Breda University of Applied Science. In North America: at Boston University, Northeastern, the New School in New York City, McGill, Toronto, Simon Fraser University and the University of British Columbia.
BSB graduates are now studying, for example: Medicine; Politics and History; Psychology, Filmmaking; Economics and Econometrics; Information Management for Business; Music; Graphic Design, Chemical Engineering; Law; Computer Science and Mathematics; Hospitality; Sustainable Development; Creative Writing and English Literature; Sport Rehabilitation; Aerospace Engineering; and Drama and Musical Theatre.
We also celebrate the progression of students have also gone on to study for apprenticeships (in car mechanics and with Transport for London), to train to be a pilot or to take Gap Years before applying to university or entering the world of work.